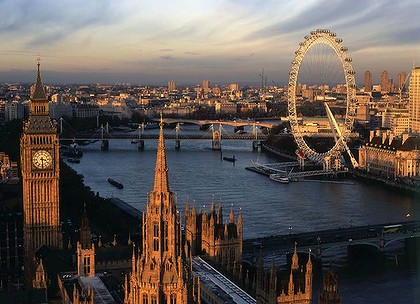 London, a world cultural capital contains Four World Heritage Sites. The bustling city is rich in culture and history. It has been a major settlement for more than two millennia. Each year the city attracts up to 30 million visitors. With a wide variety of attractions to choose from, we wondered what would be the 5 most important ones that one should definitely visit while staying in London:
1. Natural History museum
If you're a history and nature buff, this is the place to go to. The museum exhibits a wide variety of natural history including animal, plants, ecosystems, geology, etc. The permanent dinosaur exhibition will undoubtfully catch your attention and so will the massive blue whale skeleton, coming in at a whopping 10 tons!
2. London Eye
Your visit in London wouldn't be complete without getting on the London Eye and taking in the incredible view of the city. Want to impress your date or your special other? Why not think of getting a private capsule? Sure it can be slightly expensive (approximately 350£), but you get a bottle of champagne and truffles on top of having the time of your life with that soul mate.
3. Madame Tussauds
Fancy meeting celebrities? Well this is the next best thing. At Madame Tussauds you can hang out with the precise wax replica of your favourite celebrities, including the Royal family. Although many branches are being opened all around the world, the birthplace of this particular art form started out in the UK. Marie Tussaud sculpted the first wax figure of Voltaire back in 1777.
4. Tower of London
This historical fortress was built in the 11th century and expansion was completed by the 13th century. Besieged several times the fortress was important to controlling the country. Nowadays, it serves as the home for the crown jewels. But it was also used as a prison, an armoury and a treasury.
5. Westfield Shopping centre
Are you a shopaholic? No worries, we just found your paradise. At the Westfield Shopping centre, you can indulge in a shopper's heaven. Take a break from visiting monuments and museums. With a retail area of over 150 000 square meters (the equivalent of 30 football pitches) and it's 255 stores, you are bound to find all what your heart desires.