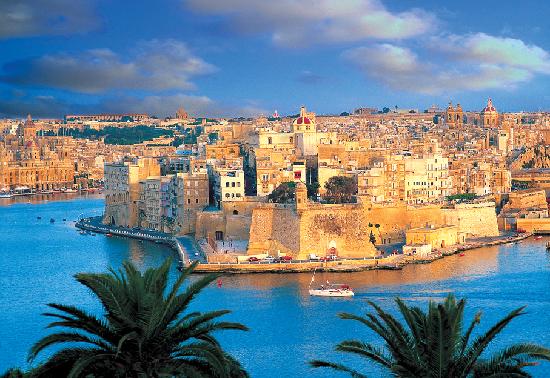 Attention all students looking for an internship abroad in a country where life is good, where locals are welcoming and where you can live on a small budget, we found THE precious gem! With a sunny climate almost all year round, this destination is perfect for combining both work and pleasure. With its three islands (Malta, Gozo and Comino) Malta has its share of surprises: sandy beaches, rocks, cruises but also clubs and bars, small hidden restaurants, and touristic sites full of romanticism. There's something to please everyone. It is an island, and when if you plan on staying for six months, you would think that you'll have discovered everything by then. But trust me, the island has hidden treasures that will make your stay and adventure full of pleasant surprises and wonderful people.
Transport:
A few years ago, Malta was known for its small colourful, noisy and crowded buses. But in 2011 the islands transport infrastructure was modernized when Arriva purchased the public transport service Today, Arriva no longer operates this service. Malta Public Transport is the new bus service operator and even newer vehicles were put to use in May 2014.
Air conditioning, new bus stops and timetables were put in place. The island leaped into a more modern era but managed to retain its charm. It is easy to travel around the island for a very reasonable price: 1.50 euro for an all day ticket, and 6.50 euros for a weekly one.
It is interesting to know that before 2014, ticket prices varied depending on your nationality, Maltese nationals paid 40% less than foreigners due to subsidised fares..
While buses have been modernised, the Maltese way of driving is still the same old charming one. Remember to stay calm when a bus arrives 30 minutes late and nobody flinches, or if the bus doesn't even stop because it is full and you have to wait for the next one, with a slight chance of it being late as well.
Tickets can be bought on board with cash (preferably the exact amount), or using automatic ticket machines located at some popular stops. You can subscribe for a monthly plan in Valletta at the main office; just remember to bring ID and all necessary documents. Do not lose your ticket as they could be inspected. Remember to store it in a safe place as it can easily get lost or blow off with the wind.
Buses run from 5:30 a.m. until about 11 p.m. Past that, night buses are available (marked with an N before the bus number) even though they don't seem to be regular and will cost you 2.50 euros.
The bus with an X before the number takes you to and from the airport. It is much faster to get there by taxi. Trips will cost around 15 euros depending on where you want to go on the island but if you share the cab, the fare will be much lower.
Find out more about public transport through the official website:
http://www.publictransport.com.mt/
 Valletta: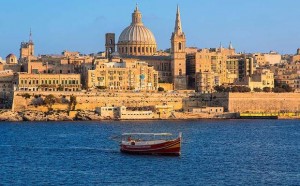 Valletta is Malta's capital. It's a fairly small town, but it has an extremely rich history. This is not just a city; it's an entire universe of baroque architecture, small wooden balconies, small alleys and restaurants, bastions, small churches and magnificent views of the rest of the island. If you are looking for culture, and a timeless atmosphere, it's the place to go to relax. One of the jewels of the city is the St John's Cathedral, Baroque magnificence, which holds one of the only paintings on which Caravaggio signed his name. Do not forget to visit the gardens from which you have an impressive view of the three cities and can watch the changing of the guard.
You can get to Valletta by buse, but also by a ferry from Sliema Ferries every 30 minutes.
Gozo & Comino:
Catch a bus to Cirkewwa and take a ferry to Gozo. You can also enquire about boats leaving from Sliema. Comino is a small piece of land, there is not much to do, but the island is one of the main tourist attractions in the summer. That is where you'll find "blue lagoon". The water is of a heavenly blue, and the bay is full of small boats, young people enjoying the sun and water and diving from the rocks.
Gozo is a little more rural, you can get around by bus, but the "tourist" bus is more advisable as it saves you from returning to Rabat as soon as you want to go to a different place on the island (Rabat is the central city in where all buses arrive and depart). You can visit the whole island in one or two days. For a moment it feels like being in another era, away from globalization, secluded in this little paradise. Do not forget to go to the "Azur Window", a place where land and sea magically become entangled.
Saint Julian's, Paceville
It's been an intensive week of interning? Need to relax? Head to Paceville in St Julian's. You'll discover the second facet of Malta: cheap partying and a large international community of workers/students on the island. You can go clubbing, talk to young people from all around the world, eat out at one of the restaurants, go to the cinema, and hang out at one of the bars with different themes and for all ages.
Taking a taxi to head home is easy. You'll find transportation for more or less two euros per person. But that means sharing your cab with strangers. Take it as another opportunity to make new friends. Taxis are very reliable and insist to drop you closest to your home for your safety. Although Malta is one of the safest countries in Europe, being vigilant and responsible goes without saying. Be especially careful when going out in Paceville, as mobile phone theft is extremely frequent. Once lost, don't expect to find it, and the Police can't do much about it.